The fucking machine (FM)
Our quality Fickmaschine (FM) from the renowned company Stylefetish is characterized by its very quiet operation and continuous regulation of speed and pampers you in a variety of positions.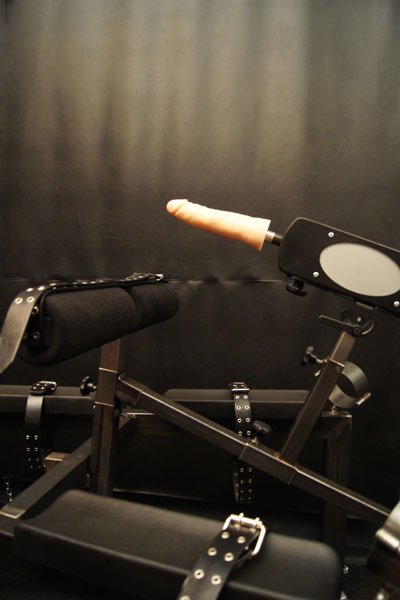 With the hire of the FM, two new dildos available. One of the two dildos is included in the rental price and may be taken home; which you choose, you decide on the spot. The packaging is transparent, so you see exactly what you get. If you also want to use the second dildo, you will be charged 10 €.
Depending on availability (this may vary due to demand) there are at times other dildos, some new in the offer, which can be rented and / or bought. The current offer can be found in the location.
The FM can be used on various devices, on the Jailhouse Fuckbed or on the bock. The various possibilities make the FM very variable, enjoying it alone or as a couple in a variety of roles.
The machine itself incl. the above two selection dildos costs in connection with a single night 25 €, with more than one night's stay 35 €. Just book the FM together with your desired dates in the booking form.
The Sybian (Syb)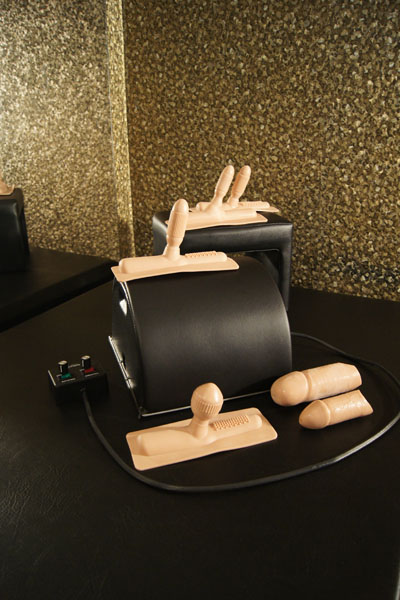 The BDSM-Loft Sybian comes directly from the inventor, developer, manufacturer and supplier of the famous and original only one true Sybian from the USA and makes the hearts of ladies beat especially fast. The developer speaks of an orgasm guarantee; The numerous, enthusiastic feedback from many guests suggests that there really is something in this claim.
With the rent of the Sybian (our "Syb") you have two different attachments at your disposal. These attachments are also rented and must remain in the Loft and may not be taken home.
Additional attachments are available for additional rent. These too are packed transparently so they are easy to see. If you unpack them, individual additional attachments will be charged with 10 € each.
The Sybian is a sturdy and heavy unit that "sits" like a saddle and upright or bends comfortably forward. You can enjoy the Sybian on a mat on the floor or on one of the beds or on the cage. There is an operating device with two different functions which can be varied; just as you like it. Of course, if you take on this task, you will decide for yourself as part of your role allocation.
The Sybian rental costs 40 € for a single night rent, and 50 € rent for more than one night. For this very high quality and exclusive Sybian rental, a separate deposit of 100 € on booking is required. This deposit is refunded to you after your departure and after a function and fault check, along with any additional attachment use deducted. Simply book the Sybian along with your preferred time by simply naming "Sybian" in the text box notes section of the booking.