News
KinkinKreta 2023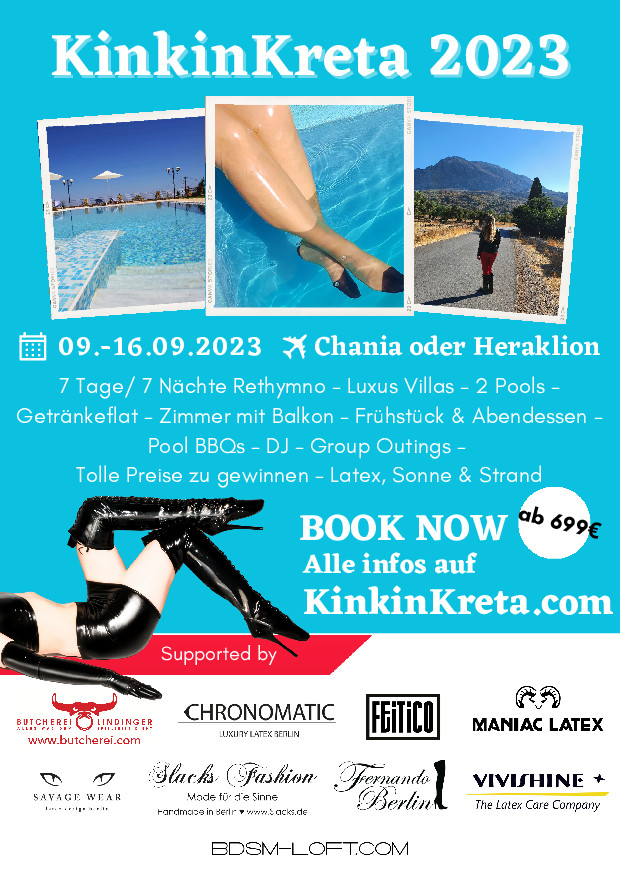 Enjoy a full, kinky week holiday in Creta in your most sexiest Latex outfits! Fun group outings with like-minded people, Breakfast and evening BBQs, DJ for chill sounds around the pool as well as enjoying an extended summer, sun, fun and sexy relaxing - all in one. All further details online at www.kinkinkreta.com
New Exclusive Partnership with Devobon

Our guests will soon be able to test and experience the fantastic bondage products and extreme heavy rubber latex masks in various designs from Devobon. In addition, our guests will receive an exclusive discount when ordering directly from www.Devobon.de. Stay tuned for more updates. Have you already subscribed to our newsletter?
Young people offer
You want a 25% discount on the price of your booking?
You are 24 years young when you check-in or you are celebrating your 25th birthday.

When booking, you enter "young people" in the text field.

Take a look at the online calendar and secure a free appointment. After booking, you will first be shown our original price. You will receive the discount shown with your booking confirmation by email.
Our exclusive gift vouchers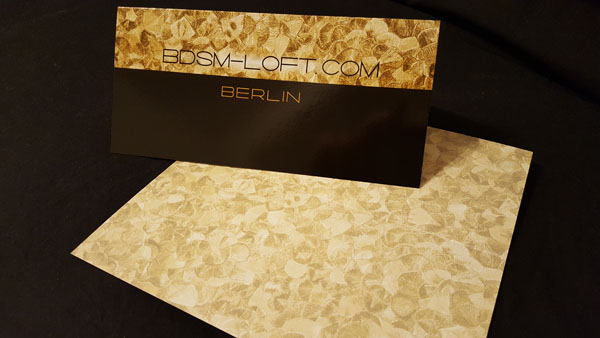 They are super glossy and simply beautiful; Our exclusive gift vouchers are here. The perfect gift for an exclusive and original present this year. Give the gift of excitement with a gift voucher for the original BDSM-Loft in Berlin. Perfect for an overnight stay, a special occasion or a night of excitment for your weekend in Berlin, for your business trip, your night of fantasy, for using our exclusive equipment or alternatively an add on for your stay with a gift of a Champagne Bottle of Moet & Chandon for example. We will try our hardest for you and your special wishes.You have the choice in putting together your own gift voucher with us.
Simply contact us via email info@bdsm-loft.com
Below you can subscribe to our general newsletter (without clicking the three additional areas of interest). Or, alternatively you can combine the general newsletter with your own personal interests by simply clicking on the preferred boxes.