News
Young people offer
You want a 30% discount on the price of your booking?
You are 24 years young when you check-in or you are celebrating your 25th birthday.
Book at the earliest on the 4th day before your desired check-in.
When booking, you enter "young people" in the text field.
You pay via PayPal for friends immediately after receiving the booking confirmation.
Then take a look at the online calendar and secure a free appointment for the next four days. After booking, you will first be shown our original price. You will receive the discount shown with your booking confirmation by email.
Our exclusive gift vouchers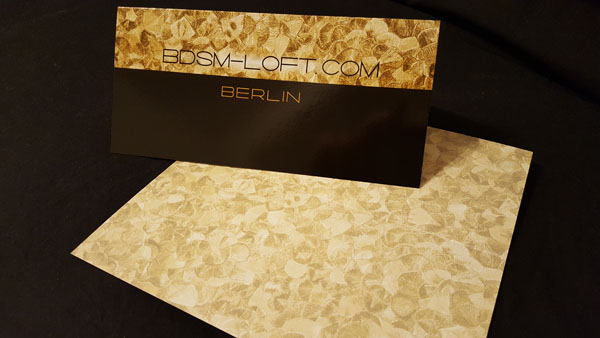 They are super glossy and simply beautiful; Our exclusive gift vouchers are here. The perfect gift for an exclusive and original present this year. Give the gift of excitement with a gift voucher for the original BDSM-Loft in Berlin. Perfect for an overnight stay, a special occasion or a night of excitment for your weekend in Berlin, for your business trip, your night of fantasy, for using our exclusive equipment or alternatively an add on for your stay with a gift of a Champagne Bottle of Moet & Chandon for example. We will try our hardest for you and your special wishes.You have the choice in putting together your own gift voucher with us.
Simply contact us via email info@bdsm-loft.com
Hopefully, from the 01.07.2021 we will be taking bookings again. Secure your desired date now directly in our online booking calendar. There is a lot of new features to discover and re-live. There are also new pictures in the gallery and more news will be added soon. Below you can subscribe to our general newsletter (without clicking the three additional areas of interest). Or, alternatively you can combine the general newsletter with your own personal interests by simply clicking on the preferred boxes.