BDSM-Loft - your BDSM apartment available to rent in Berlin
Super! again and again!!
M. - Berlin
Our stay has been totally fantastic. Your facilities are amazing. We spent a fantastic weekend and hope to return soon
L. - Spain
Everything is super clean & stylish in design. Here you can really feel at ease. We enjoyed everything to the fullest...it was just perfect.
H. & S.
"Thank you for the wonderful hours. Big compliment for the cleanliness and the equipment"
T. - Frankfurt
"We really enjoyed our visit.
Thank you for a great stay in a wonderful place. We will be back!"
S & J - England
"Everything was super, the equipment is perfect and I´ll be back again soon!"
K. - Berlin
"A superb Location. Happy to recommend you".
C & T-
"We enjoyed your location very, very much".
L & B. -
"1A Location!!!!"
S. & P. - Berlin
"Danke, für den Rahmen für einen perfekten Abend!"
S. & H. - Berlin
"Keep up the good work! 5 stars "
L.H. - Belgium
"We had lovely time. I hope we have opportunity to visit your apartment again!"
H. - Finland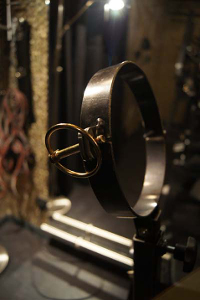 The new BDSM-Loft is even more centrally located in the heart of Berlin. Completely refurbished and with even more refined equipment. The move has been successful. The lobby is not yet completed; but this does not interfere too much as all relevant areas are behind it.
Currently, our calendar is still blocked although we can confirm new bookings manually via email for your non-binding booking request. For your booking request, you will receive your reservation confirmation subject to availability.
Direct in the heart of Berlin is the BDSM Loft, within walking distance of Potsdamer Platz and the Brandenburg Gate and in close proximity to all major scene clubs. Established by connoisseurs of the scene for connoisseurs of the scene in 70m2, ultramodern equipped for your intensive and extravagant BDSM game. Secretively located and yet easily accessible, the BDSM-Loft is the opportunity to play and stay at the same time.
The design is well thought out to the last detail, stylish and elegant. The decor is very comprehensive and has all the facilities for your sustained and restrictive games. Variety and imagination open up unprecedented opportunities to make your own desires reality. For couples who want to spice up their love life, for those who are curious and wanting to try something different, for leather and latex lovers and for both sexes in every constellation possible.