BDSM-Loft - your BDSM apartment available to rent in Berlin
"The BDSM-Loft! - excellent all round, so clean and a lovely check-in - Thank you so much. We will be back again. "
T & T - San Francisco, USA 03.2023
"Wonderful - so clean and a fantastic atmosphere - great for us as beginners!"
L & F.S - Paris 02.2023
"Thank you BDSM-Loft - we had a perfect night and are looking forward to booking our next stay with you. eck-in - Thank you so much. We will be back again. "
T & T - San Francisco, USA 03.2023
"The Loft was excellent! Our stay was way too short"
M & K - Vienna 09.2020
"Great place to escape to for a weekend - we'll be back"
A.& P - Denmark 08.2020
"Our 3rd time here - perfect as always - professional, discreet and super clean!"
E.H - London 02.2020
"Very fast communication, very professional"
Z.H - U.S.A 10.2019
"Superb! Thank you again for yet another the fantastic stay"
S & C - Denmark 06.2019
"So Clean! Thank you for everything!"
T & L - Norway 05.2019
"Brilliant place and best location for Berlin. Thank you so much"
K & S - Germany 06.2019
"Wonderful to finally get to stay here- it's always getting booked out! Had a fantastic stay."
R & O. - Berlin 01.2019
"Excellent! This place exceeded our high expectations! Friendly check-in and great equipment."
S & W. - Finland 01.2019
"We had a fantastic time here at Christmas. Easy to reach everywhere in central Berlin. Thank you so much!"
S. & A - Italy 12.2018
"Thank you for sharing your special place with us. Right in the middle of Berlin and a luxurious location."
Henry & M. - London 04.2018
"Great Location, right in the middle of Berlin. We'll definatley be back!"
C & D - London 05.2018
"Lovely surprise for my husbands special birthday - a big thank you to you and your team."
R & D - Hamburg 04.2018
"So Clean! - we loved the black bedroom with the floor to ceiling mirrors. Wow!"
T & T Stockholm - 04.2018
"Exclusive and friendly. Great customer service and within walking distance from Potsdamer Platz! Love it!"
I - Denmark 07.2017
" Wow..that was a great experience! Loved the floor to ceiling mirrors! Thank you"
W - U.S.A 06.2017
"Great location, in the middle of Berlin! Super clean and professional"
A & E - Finland 05.2017
"Superb!!!!! Thank you for the fantastic stay"
S & C - Denmark 03.2017
"Looks exactly like in the photos! Excellent and high class"
T & B - Sweden 02.2017
"Very welcoming check-in and friendly service, tips on where to go and complimentary guest wi-fi. Our new favourite location in Berlin"
D & E - Sydney, Australia 11.2016
"We had a great stay. You have a wonderful place! We'll be back"
C - New York USA - 11.2016
"Friendly check-in, everything was kindly shown to us as we were beginners. Fantastic stay and so clean!"
R & S - London 11.2016
"Very, very good indeed"
J - Oslo 07.2016
"Perfect - Great apartment with super equipment"
J & S - Copenhagen 2016
"Wow! What a fantastic hidden gem in the city! 5 stars!"
M.H - London
Super! again and again!!
M. - Berlin
Our stay has been totally fantastic. Your facilities are amazing. We spent a fantastic weekend and hope to return soon
L. - Spain
Everything is super clean & stylish in design. Here you can really feel at ease. We enjoyed everything to the fullest...it was just perfect.
H. & S.
"Thank you for the wonderful hours. Big compliment for the cleanliness and the equipment"
T. - Frankfurt
"We really enjoyed our visit.
Thank you for a great stay in a wonderful place. We will be back!"
S & J - England
"Everything was super, the equipment is perfect and I´ll be back again soon!"
K. - Berlin
"A superb Location. Happy to recommend you".
C & T-
"We enjoyed your location very, very much".
L & B. -
"1A Location!!!!"
S. & P. - Berlin
"Danke, für den Rahmen für einen perfekten Abend!"
S. & H. - Berlin
"Keep up the good work! 5 stars "
L.H. - Belgium
"We had lovely time. I hope we have opportunity to visit your apartment again!"
H. - Finland
More than any hotel room, more than an apartment, more than just play. Bigger, better and badder! Enjoy, experience and relax.
The BDSM-Loft was built in 2012 in an attic in Berlin-Schöneberg.There, the name BDSM-Loft was born. Quickly, more ideas, something even more beautiful, developed in order to offer even more. The decision was quickly made. More space was required, a bigger space for even more variety and newer ideas. Even more central than before, located in the very center of Berlin with newer possibilities. For a truly dark fantasy escape, as well as for a business trip or short vacation. Then, in 2015 the move was successful. Since then, there have been more possibilities for new discoveries; the name has remained.
The new BDSM-Loft - Superbly centrally located in the middle of Berlin with new ways to play, more than any hotel room has to offer! Discreet, refined and centrally located in Berlin.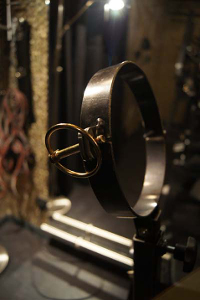 Completely refurbished and with even more refined equipment.
Direct in the heart of Berlin is the BDSM-Loft, within walking distance of Potsdamer Platz, the Brandenburg Gate, Nollendorfplatz and Friedrichstrasse with the underground (U-Bahn) directly within 6 minutes walk. In close proximity to all major scene clubs like Insomnia, KitKatClub, Boiler and Untertage. Established by connoisseurs of the scene for connoisseurs of the scene in 70m2, ultramodern equipped for your intensive and extravagant BDSM game. Discreetly located and yet very easily accessible, security video camera in foyer area for your safety, free on street parking right in front of the door and superbly reachable on public transport, the BDSM-Loft is the best opportunity to play and stay at the same time.
The design is well thought out to the last detail, stylish and elegant. The decor is very comprehensive and has all the facilities for different play scenarios. Variety and imagination open up unprecedented opportunities to make your own desires a reality. For couples who want to spice up their love life, for those who are curious and want to try something different, kinky couples for leather and latex lovers and for both sexes in every constellation possible. Discretion is our top priority. If desired, we are more than happy to give you a short tour and explain the equipment at check-in to make your stay in Berlin unforgetable.