BDSM-Loft - your BDSM apartment available to rent in Berlin
Super! again and again!!
M. - Berlin
Our stay has been totally fantastic. Your facilities are amazing. We spent a fantastic weekend and hope to return soon
L. - Spain
Everything is super clean & stylish in design. Here you can really feel at ease. We enjoyed everything to the fullest...it was just perfect.
H. & S.
"Thank you for the wonderful hours. Big compliment for the cleanliness and the equipment"
T. - Frankfurt
"We really enjoyed our visit.
Thank you for a great stay in a wonderful place. We will be back!"
S & J - England
"Everything was super, the equipment is perfect and I´ll be back again soon!"
K. - Berlin
"A superb Location. Happy to recommend you".
C & T-
"We enjoyed your location very, very much".
L & B. -
"1A Location!!!!"
S. & P. - Berlin
"Danke, für den Rahmen für einen perfekten Abend!"
S. & H. - Berlin
"Keep up the good work! 5 stars "
L.H. - Belgium
"We had lovely time. I hope we have opportunity to visit your apartment again!"
H. - Finland
NEW 15/06/2015:Our first special offer has been planned: The first 21 nights after our opening date will be available for a maximum of 99 per € ( plus cleaning). This offer is only bookable by our newsletter recipients. So quickly subscribe here in our newsletter and enjoy being one of the first to spend the night in the new BDSM-Loft.
14/05/2015: Both bathrooms completely renewed. Two apartments with approx 80sqm and 140sqm are starting to take form. Many new play options are finding their place, for example, leather Sling, gyn chair and a crane trolley system on the ceiling .... Don't forget: subscribe to our newsletter and receive our superb opening offer.
28/04/2015: Our construction work is progressing well. In May, our previous guests and newsletter subscribers will receive a special Early-Bird Offer which will enable them to make an exclusive first booking. The new BDSM-Loft will comprise of two locations. Be curious.
01/04/2105: Our move has now started but our new location is not ready just yet, contrary to our expectations and this means a lot of work for our new "home" - a bigger, better and badder BDSM-Loft.
Therefore, we have blocked our booking calendar. We will only confirm new bookings when our move is complete and we can guarantee you that your dates are avaliable. In the meantime, please send us your no-obligation booking request with your requested dates and for your booking request email you will receive a special Early-Bird Offer when our new opening has been confirmed. Following this, we will also be offering a newsletter recipients Early-bird offer. Therefore: Be quick and add yourself to our newsletter and benefit from the advantages. Be curious. It will captivate you.
Located in the heart of Berlin, just a stones throw away from Potsdamer Platz and 6 minutes from The Brandenburg Gate, the BDSM-Loft is discreetly located and easily accessible to all the major scene nightlife and scene clubs that Berlin has to offer.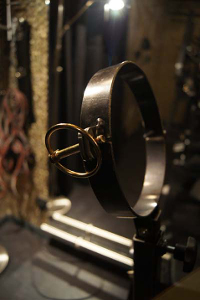 Established by connoisseurs of the scene for connoisseurs of the scene, enjoy our ultra modern facilities for your intense and extravagant BDSM play. The BDSM-Loft in Berlin is your opportunity to play and stay overnight at the same time.
For couples who want to spice up their love life, for those who are curious and wanting to try something different, for leather and latex lovers and for both sexes in every constellation possible.
The design is well thought out to the last detail, stylish and elegant. The decor is very comprehensive and has all the facilities for your sustained and restrictive games. Variety and imagination open up unprecedented opportunities to make your own desires reality.